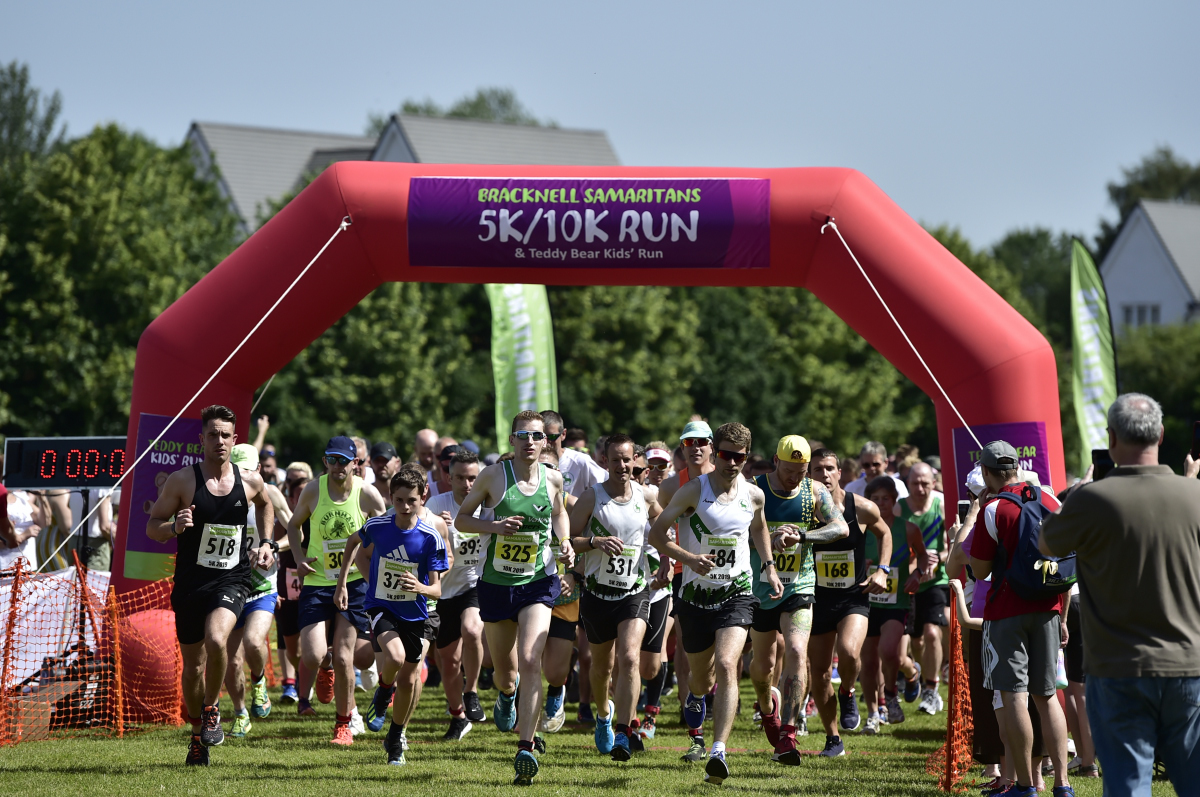 We're back!! After a two year break, we are proud and excited to bring you the 40th Annual Bracknell Samaritans Run on Saturday 25 June 2022 at Easthampstead Park School, Bracknell. Join us for a 5k, 10k or Teddy Bear Kids Run and support your local Samaritans branch, based in Bracknell.
Once again, this wonderful running event will be held at Easthampstead Park Community School. ​The Bracknell Samaritans Run is a very popular & fun running event for the local community, open to the whole family. Additionally, it is the key fundraising event for our branch.
Whilst Samaritans is a nationwide charity with 201 branches, many of those, including our Bracknell Samaritans branch, are independent charities in their own right; fully run by volunteers and entirely dependent on charitable donations to keep doing what we do. The Bracknell, Wokingham, Ascot & District Samaritans Branch organises the Bracknell Samaritans Run for the local community every year and all profits raised directly benefit our local branch.
​Did you know:
Samaritans of Bracknell, Ascot, Wokingham & districts are fully self-funded and run 100% by volunteers
It costs around £25,000 each year to keep operating
In 2020 we answered 12,753 calls
We listened to our callers for 3837 hours
We answered 2,193 emails
There are over 125 local people who volunteer at our branch
Why we need your help
Samaritans work together to make sure fewer people die by suicide.
Every six seconds, Samaritans respond to a call for help. No judgement. No pressure. Samaritans are here for anyone who needs someone. Each day around 16 people take their life in the UK and Ireland. In the next hour, Samaritans will receive 600 calls for help.
Samaritans offer a confidential listening service to those having thoughts of distress or despair, including those which may lead to suicide. Our local Samaritans branch, based in Bracknell, offers support to our callers 365 days per year.
Sign up today and help us make a difference
With a choice of a 5k or 10k events and a Teddy Bear Kids Run, this running event is popular with social runners and families as well as local running clubs. The fantastic feedback we receive shows our runners feel well supported by energetic marshals and a well organised, smoothly run event. See below or check our Facebook page for just some of the fantastic feedback we have received after the 2019 Bracknell Samaritans Run.
Venue
Easthampstead Park Community School, Ringmead, Bracknell RG12 8FS
5k & 10k Run
Start time
10.30 am (pre-race warm up 10.20 am)
Course
The course is an accurately measured 5k loop starting and finishing in the grassed sports field. This is run twice to complete the 10k.
The majority of the route is flat and open and heads out of the school into the beautiful Peacock Meadows. An incline at the 2/7 km point leads you through Jennetts Park and into a lightly wooded area known as Tarman's Copse. The terrain is mainly grass and gravel paths, with a little bit of pavement road thrown in for variety. There is good viewing for spectators and the runners are in full view for most of way around. The course is generally wide open, with plenty of room to race for both "strength" & "speed" runners.
We regret the course is not suitable for wheelchair users and we cannot accommodate runners with pushchairs in these races.
Entry fees
5K U16 - £12
5K adult - £18
10K adult - £20
Club affiliated & UK athletics runners discount - £2 off standard entry fee (adults only)
Discounts will automatically be applied at point of sale. Discounts do not apply to on the day entries.
ONLINE ENTRIES CLOSE at midnight on Wednesday 22 June.
Ages
5k
All children under 11 years of age must be accompanied by a fee paying adult whilst running.
Parents / guardians must supervise their children at all times.
10k
You must be 16 years or over on race day to enter the 10k event.
On the day entries
On the day entries will open at 9 a.m. Cost - standard entry fee +£3.00 (subject to availability).
No entrants for the 5k / 10k will be accepted after 9.45 a.m. on race day. All entries must be processed by this time. To avoid disappointment, please arrive early.
Race limit
There is a limit of 720 entries available for the 5k / 10k runs.
Teddy Bear Kids Run
Back by popular demand, the Bracknell Samaritans Teddy Bear Kids Run gives your children the chance to take part in a 'real race', just like mum & dad! This fun, memorable children's running event will help boost your children's confidence & help promote a healthy & active lifestyle.
The Bracknell Samaritans Teddy Bear Kids Run will be just like the grown-up's races, except for the chip timing. All children taking part in the Teddy Bear Kids Run will have their own running bib and will receive a medal and refreshments at the end of their run. The Teddy Bear Kids Run will start and finish via the race arch, where our official Bracknell Samaritans Run photographer will be located.
In 2019, we had over 120 children take part in the Bracknell Samaritans Teddy Bear Kids Run. Why not encourage your little ones to come along and have some fun too?! Maybe they would like to bring their own teddy or favourite soft toy along for the ride!
Start time
09.45 am (30 minute time limit to finish)
The Teddy Bear Kids Run starts and finishes via the main race arch and is a c. 1k loop of the grassed sports field.
We regret the course is not suitable for wheelchair users but pushchairs are permitted.
Age
There is no set age limit for this event but as a guide it is suited to children between the ages of 3-8 years. However, parents / guardians must use their own discretion & judgement when deciding to enter their child. (Please see our T&C's page for full details).
Children under 7 years of age must be accompanied by an adult whilst running who will not be charged.
Entry fee
£5 per child
Bracknell Samaritans Run Jun 2022
25/06/2022, 10:30

10K

£18.00 - £20.00

25/06/2022, 10:30

5K

£16.00 - £18.00

25/06/2022, 10:30

5K U16

£12.00

25/06/2022, 09:45

Bracknell Samaritans Teddy Bear Kids' Race

£5.00
Location