NEW THIS YEAR! Kelly's Santa Fun Run is an exciting event for all the family. Every penny donated will go straight to Challengers, a wonderful local charity helping disabled children & young people & their families!
Have fun yourselves & help them have a fun Christmas too!
This is a great opportunity for families and friends to enjoy a festive run around one of the best places in Surrey, Stoke Park!
Choose between the 5K or the 2K route, which is more suitable for children and is accessible for buggies and wheelchairs. Refuel yourselves with a mince pie and a hot chocolate or anything else from our delicious refreshment options.
Santa will be there too so be sure to visit him in his grotto.
Every entrant gets a Santa Hat to wear for the run and a Christmas tree decoration when they finish! Why not make it even more special & get our bespoke Santa or Elf T-shirts to run in?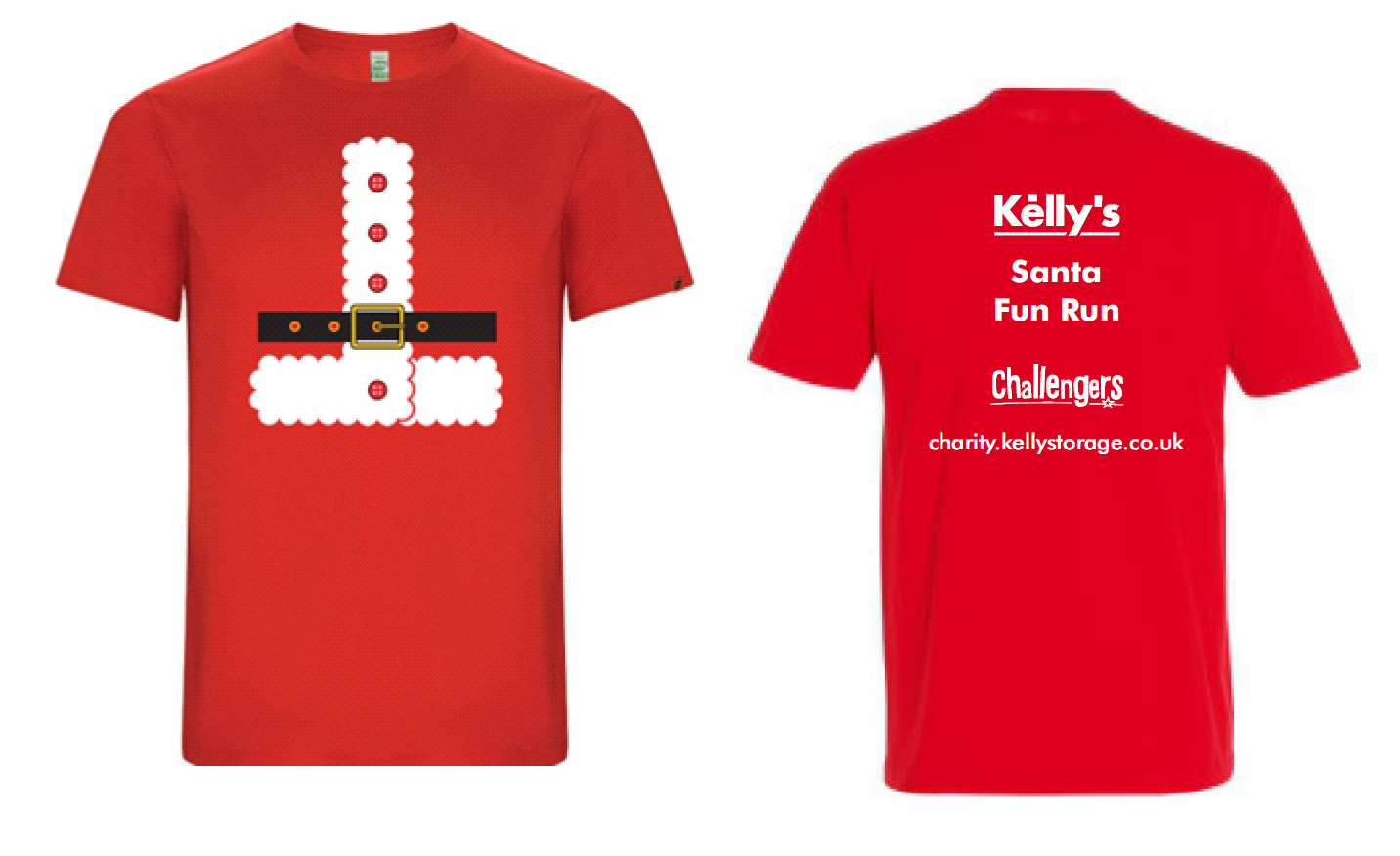 Kelly's Storage Charity Events cover all costs of this event which means there is no entry fee for participants. We welcome voluntary donations to Challengers from participants and make no deductions whatsoever so that 100% of the money given goes directly to the charity. Participants are encouraged to raise extra funds through their Eventgiving page which can be created once signed up.
Join the Run! Stay for the Fun!
Kelly's Santa Fun Run Dec 2021
05/12/2021, 12:30

5 Km

£0.00
Suggested donation/sponsorship for charity

06/12/2021, 12:00

2 Km

£0.00
Suggested donation/sponsorship for charity
Location
Directions
Address: Stoke Park, Nightingale Road, Guildford, GU1 1ER
Getting There
Please wherever possible, walk, cycle, or use public transport to attend this event.
Location of Start
HQ will be located by the football pitches near Stoke Park Nightingale Nursery, Nightingale Road, Guildford, GU1 1ER.
By Bus
Arriva Bus Links:
36 and 37: closest stop Guildford London Road Railway Station or to the Bus Stops Ennismore Avenue and Avonmore Avenue (London Road)
35 and 34: to Bus Stops Guildford Queens Road or Guildford College (Stoke Road).
Stagecoach Bus Links:
100: Spectrum Park & Ride
715: Ennismore Avenue or Avonmore Avenue
33: Queens Road
By Train
Guildford (London Road) station which is linked to the main Guilford station in the town centre is an 11 minute walk to Stoke Park.
Guildford Train Station is a 30 minute walk away.
The nearest Car Parks:
Guildford College student car park, GU1 1EZ – Free parking at weekends
Nightingale Road car park, GU1 1ER – 4 hours free parking
Lido Road car park, GU1 1HB – 4 hours free parking
Town centre car parks are located within a 10 minute walk. For further information about local car parks please visit www.guildford.gov.uk/findacarpark
Contact us
Email: charity.events@kellystorage.co.uk
Phone: 01483 447282
office hours 9am -5:30pm