At the heart of the southwest's huge running community - and with a famously fast course - Swindon is the perfect place for your next half marathon.
Starting and finishing in the Town Centre, the closed-road course is mostly flat with an incredible downhill final mile! The route takes you past some of the town's best attractions; the beautifully restored Grade II listed Museum of the Great Western Railway, the Magic Roundabout (voted 4th scariest junction in Britain - don't worry, it'll be closed to traffic!), the County Ground, home to Swindon Town FC since 1896, the chic Swindon Designer Outlet and the charming Old Town, the cultural heart of Swindon.
Discounted entry prices are available to employees of Nationwide Building Society and residents of South Swindon Parish with employee numbers or postcodes, respectively, required to validate entry.
The race won the Bronze award in the 2018 Running Awards Best Half Marathon Category (< 5000 participants) and continues to grow each year. The Nationwide Building Society New Swindon Half Marathon 2019 also won the Racecheck Bronze Award and is one of the top-rated races in the UK, as judged by you!
The original Anglo-Saxon settlement of Swindon was built on top of a limestone hill and referred to as Suindune, derived from the old English words "swine" and "dun" - meaning "pig hill"! You'll love trotting around with runners from Swindon and across the southwest, make the most of the town for post-run troughing and a brilliant day out.
Swindon Town Centre provides free parking for several thousand cars with several car parks within half a mile of the start/finish.
The Road Closure schedule will be posted approximately 6 weeks prior on the event website.
If you're participating this year, please consider running for Alzheimer's Research UK to raise vital funds for dementia research. As the UK's leading dementia research charity, Alzheimer's Research UK is dedicated to causes, diagnosis, prevention, treatment and cure. Their mission is to bring about the first life-changing treatment for dementia by 2025 and they need your support! Join #TeamARUK
Entry on the Day will not be available.
For event updates and future promotions, follow us on Facebook, Twitter and Instagram.
Event Schedule
Enquiries: 8:30.
Start: 9:30.
Finish: 13:00.
Should additional Covid-safe provisions still be in place for this event, participants may be allocated start waves between 8:00am and 10:00am. Communicated prior to the event by email and/or SMS, these times may be subject to change.
COVID-19 Mitigation
Should this event be required to operate with additional Covid-related provisions, the following measures, together with other Covid-related requirements, will apply (and may be subject to revision in response to any change in the current public health guidance issued by the government or regulatory bodies).
NHS Test and Trace will be in operation at our events. Participants will be required to complete a health declaration prior to arrival and to check-in where possible using the NHS COVID-19 app (available to download in advance for iOS or Android). Any information obtained will be held for 21 days after an event only and will not be used for any other purpose. Participants may not be permitted on site if they fail to follow this process, the full details of which will be communicated in the week leading up to an event.
One-way navigation and social distancing signage will be present on site to facilitate adherence to official guidance. Queue markers must be observed at all times and sanitisation stations used as frequently as necessary.
Unless there have been any changes following communication of the final pre-event information, there will be no event briefing on the day. Participants should read the communication thoroughly to familiarise themselves with the event details.
Participants will start individually at 10-15 second intervals to maintain social distancing, with a recommended 15-30 minute arrival window allocated and communicated prior to the event. Participants from the same household/bubble will be permitted to start together (if participating in the same distance/category) and should follow the relevant instructions to arrive and/or start at the later of any times communicated (if different). Whilst running, participants should only overtake when there is enough room (at least 1m) to do so.
Once finished, participants should continue moving and follow signage and marshal directions to keep the area clear for other finishers. Any post-event rewards (medal, water etc.) will be self-service (following hand-sanitisation) to ensure there is no contact amongst staff and participants.
Participants are asked to review the UKA Participant Code of Conduct prior to their arrival.
Event Details
Licensing
This event will be licensed with UK Athletics (UKA) and the results published by Run Britain shortly after the event.
Bib Numbers
Bib numbers will be mailed to all participants that have entered by midnight on the Sunday (12th) prior to the event and provided a valid UK address during registration. When a bib cannot be mailed due to an incomplete/invalid address - and in cases where it does not arrive - participants will be able collect a new/replacement bib at the event. Participants need not contact us with respect to non-receipt of their bib but should be prepared to show their booking confirmation on arrival if requested.
Results
Results will be uploaded live to our website (internet connection permitting) and communicated to all pre-registered participants within 24 hours of the event.
Rewards
All finishers will receive a medal on completing their event.
We are also proud to be partnered with runr - the fitness and lifestyle brand for people passionate about running.

runr firmly believe that the best thing about running is the community and hope that by wearing runr products, you'll engage with other runners in everyday life and share stories of triumph and failure.

Keep an eye out for competitions, special offers and more as we work together in 2021. runr will be providing exclusive prizes for top finishers at the 2021 event.

Be proud of your achievements, be proud to be a runr!

Find runr on Twitter, Instagram, Facebook & Strava
Winners will be notified by email by the end of the following week where a presentation is not possible on the day.
Pacers
Subject to availability, pacers will be offered at this event with target times between 1h30 and 2h30.
Pace Pockets are fabric wristbands with a storage pocket for all your running essentials such as keys, cards, cash or gels; printed with your choice of Marathon or Half Marathon splits. Use promo code PPZERO during purchase from www.pacepockets.run to facilitate free delivery on all orders.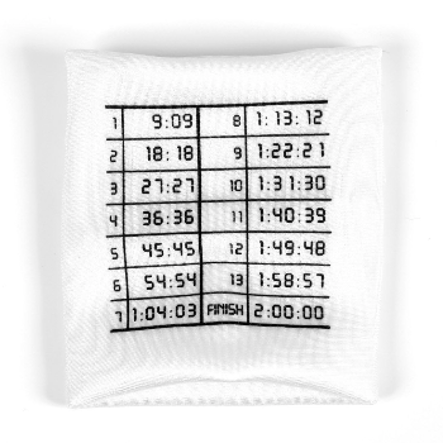 - Fabric wristband with storage pocket.
- Marathon split times printed on both sides.
- Available options from 1h30 to 2h30 (Half Marathon) and 2h45 to 5h30 (Marathon).
Facilities
Marshals/Course Markings
Marshals, wayfinding signage and distance markers will be visible on the course throughout the event.
Medical Cover
Suitable medical cover is provided at our events in case of a medical emergency. As part of the registration process, participants are asked to provide details of any pre-existing medical conditions, disabilities, medication, or allergies that may be relevant in the administration of any medical assistance.
Photography
Photography will be provided, a link to which will be available on our website and communicated to all pre-registered participants within 24 hours of the event.
Bag Drop
Whilst we recommend bringing as little as possible, participants can leave essential belongings with us while they run using the tear-off baggage strip on their bib. They can then present their number after the event to retrieve their item(s).
Lost Property
Any items handed in at this event will be kept for one month. If unclaimed, or ownership cannot be determined, lost property items will be donated to charity.
Water Stations
Water will be available for runners on the route, approximately every 2 miles.
Toilets
Toilets will be available at the start (when active) & finish areas for use throughout the event. No toilets are available on the route.
Other Information
Wheelchairs
This event is suitable for wheelchair users. Participants wishing to compete with specialised equipment are asked to contact us before entering to ensure we can accommodate any additional requirements.
Buggies, Pushchairs and Strollers
As a UK Athletics licensed event, the pushing of persons in any device is prohibited under the UKA Rules of Competition - including, but not limited to - buggies, pushchairs, strollers (or similar) and wheelchairs.
Earphones/Headphones
Noise-cancelling earphones/headphones are prohibited and, whilst we discourage the use of other earphones/headphones in running events, participants choosing to use them should ensure they are set to a low enough volume that instructions from any event official can be clearly understood. We reserve the right to disqualify participants who cannot hear instructions as a result of their use.
Event Finish Time
In order that we adhere to the restrictions imposed by the venue hire agreement and road closure schedule, it may be necessary for us to begin deconstruction of the course and/or start/finish area at approximately 13:00 to facilitate our departure from the premises - and re-opening of roads - by the agreed time. If participants are unable to complete their event by this time, they may be asked to end their participation early.
Dogs
Participants must not be accompanied by a personally owned or controlled dog during an event. Entries may be accepted from participants with medical assistance dogs, subject to them being correctly registered and identifiable as such, and subject to prior approval by the Event Director.
The Nationwide Building Society New Swindon Half Marathon Sep 2021
19/09/2021, 09:30

Half Marathon

13.1 Miles

£0.00 - £39.00

19/09/2021, 09:30

Half Marathon - Nationwide Building Society Employees Only

13.1 Miles

£29.60 - £31.20
Location
Directions
Further details with respect to planning your journey and available parking facilities will be communicated prior to the event to all-pre-registered participants.